Raleigh Green Gables is back open, as I announced a few weeks ago.
But I also want to tell you about my partner, Sheon "The Stylist" Wilson, who is now offering virtual styling.
Over the years, Sheon and I have curated my capsule wardrobe, where I have all designer clothes, but it's very limited. (I mean we all wear the same five things anyway. I just don't live in denial like the rest of you.) And they all coordinate (see all the solid colors?) So I have endless possibilities to mix and match, even though I have about 10 shirts. This is my entire wardrobe from summer to fall to winter to spring:
Sheon also works with my clients after I clean out their master closets to put outfits together with what is left and go shopping if clients need anything. (Most people need basics.)
I recently contacted Sheon, because I used to have this amazing, jersey, tank dress I wore every day in the summer, but it eventually wore out. So I wanted another summer dress I could wear every day because I am tired of the yoga clothes.
I always turn to Sheon to help me buy clothes for my petite frame because I used to make so many clothing mistakes that cost me a lot of money. Sheon's the expert, keeps me focused and knows what works. So, even though I am paying her, I end up saving money.
But I did not want to go to a mall at this time, so we did it all over text. She researched summer dresses and sent me several to choose from. I just ordered it from the URL she sent me.
I ended up with the Boden Amelie Jersey Dress in Navy. It has pockets! And I can wear with booties or tennis shoes. I can wear all summer and transition to fall with a jean jacket.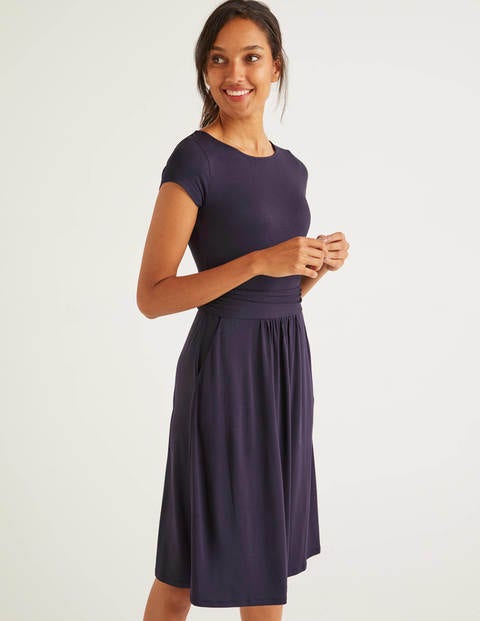 It was super easy, and I never had to step foot in a store. I do miss trying things on with Sheon there to tell me if it works or not. But for now, this is how I will shop.
She also searched for a bathing suit for me, and she found a beautiful one at Athleta. I ordered it, but it did not cover as much of my tush as I wanted! (I am working on moving more!) So I sent it back. (Again, super easy because I just printed a label and put it in my mailbox.) I will just continue to use the TWO I already have. That is correct. I only have two bathingsuits.
So if you are looking for some new summer clothes, reach out to Sheon, and do a virtual styling session. (If you can't fit anything else into your closet, call us first!) Sheon is also a good accountability partner, so you don't order 8 million things.
All you need is one! I can't wait to wear my dress every day!